During our 6th Annual 2017 International Pretty Brown Girl Day on February 25, 2017,  we seek to encourage girls to think of their futures by seeing GIRLprenuers in their communities who look like them. This is the perfect day to highlight women and girls of color who are leaving a footprint for other pretty brown girls to walk in. We would like to feature Pretty Brown GIRLpreneur, Asia Newson!
About Super Business Girl
Asia Newson started her business, Super Business Girl, by selling candles she bought wholesale from a distributor when she was only 5 years old. Asia is now 13 years old, producing her own candles and other merchandise.
"When I was a little girl, my mom had to get up early, go to work and then come back late and prepare food. It was a cycle. We never really saw her because she was always at work helping someone else build their dream. My dad was an entrepreneur…he didn't have as much structure as my mom. He sold candles when he was young, and he taught me a lot about it. I was able to sell candles with him, and it was really fun. I wanted to own my own company so I can have more fun and have way more freedom. That's exactly why I do what I do. I love that", Asia explained.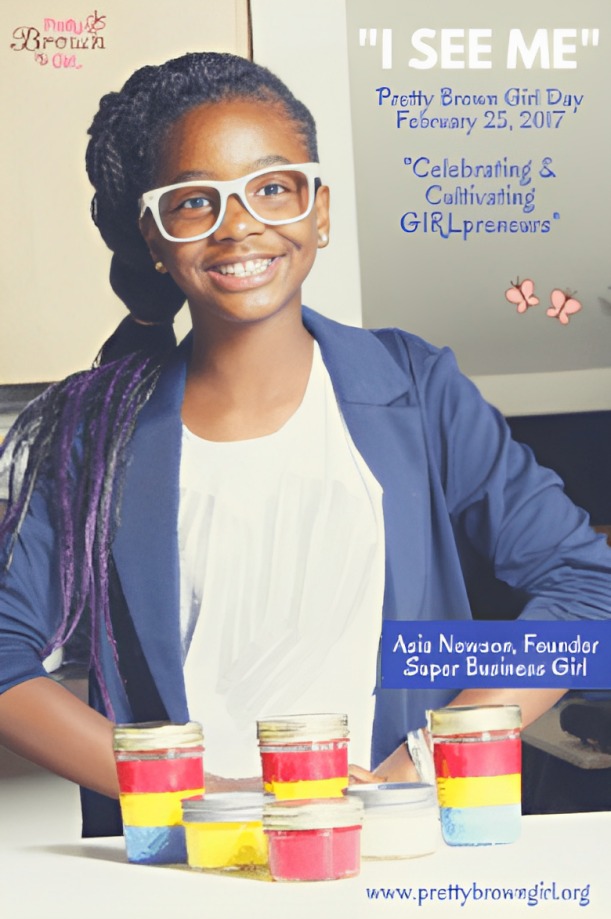 Everything really started to change when Asia ran into Dan Gilbert, who is the owner of Quicken Loans as well as the Cleveland Cavaliers. He recognized her as Detroit's "Super Business Girl." She met with him in his office and he said, "I have keys to the city, and I can sell anywhere!" Today, Asia has trained 40 of her peers, young kids in Detroit, Michigan to be Entrepreneurs, which is to say Newson has created power and possibility across a whole community! She believes in helping other kids in Detroit and beyond learn to be entrepreneurs. She wants to open a candle store in every US state and she wants to sell her candles, as well as other products including "Super Business Girl" shirt, bags and school supplies.
For more information on Super Business Girl, click here!